About 4XC
4XC is a financial brokerage service company that has operated in the Cook Islands since 2018. The broker expands its services to all the traders around the world, however we can see that they are advertising in Brazil, Nigeria and other LATAM countries.
4XC claims that it offers a wide range of tradable financial instruments to its clients, allowing leverage of up to 1:500. They provide variable spreads starting from 0.2 pips on multiple trading platforms including MT4 for Windows, iOS, Android, and Webtrader, as well as MT5 for Windows, iOS, and Android. In addition, clients can choose from three types of live account options, and the broker offers a customer support service available 24/5.
4XC Review: Pros & Cons
| | |
| --- | --- |
| Pros | Cons |
| There are many Trading Instruments to trade. | Offshore regulation. |
| Trading platforms include MetaTrader 4, MetaTrader 5, and webtrader. | Customer service is available 24 hours a day, 5 days a week. |
| Partnerships with various banks. | Their social media presence is inactive. |
| Educational videos. | The website lacks informative content. |
Market Instruments
4XC promotes its services by stating that it provides access to an extensive selection of trading instruments across various financial markets. These instruments include forex, metals (such as gold and silver), oil, index CFDs, cryptocurrencies, and stocks.
4XC Review: Account Types
4XC asserts that they provide clients with three different trading account options: Standard, Pro, and VIP. The Standard account requires a minimum initial deposit of $50 for MT4 and $100 for MT5. In contrast, the Pro and VIP account types have higher minimum initial capital requirements of $100 for both MT4 and MT5, and $10,000 for both MT4 and MT5, respectively.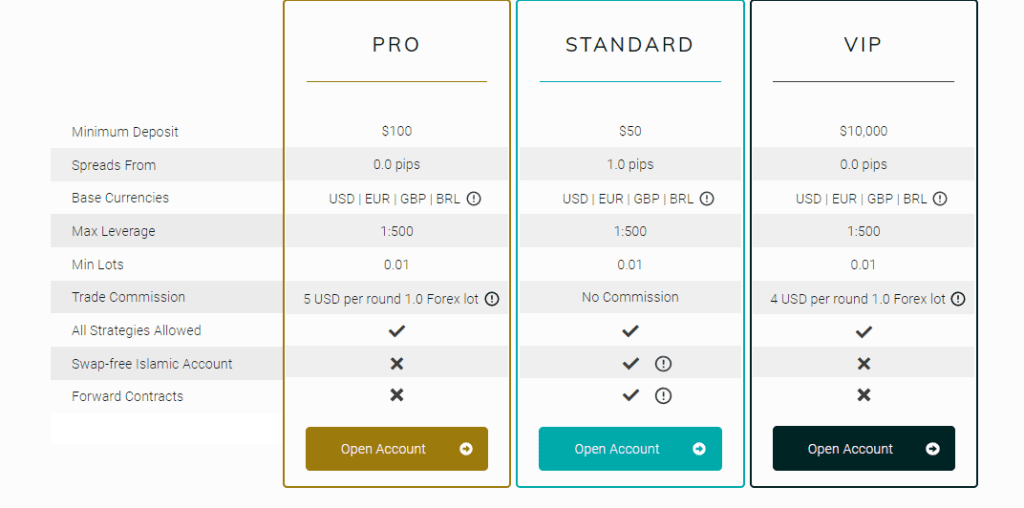 Leverage
The leverage provided by 4XC is at 1:500. It is important to keep in mind that the greater the leverage, the greater the risk of losing your deposited capital. The use of leverage can both work in your favor and against you.
4XC: Spreads & Commissions
4XC states that each account type offers distinct spreads and commissions. For the Standard account, clients can Trade on 82 instruments with minimum floating spread of 1.0 pips. On the PRO account they trade on 82 instruments with a minimum floating spread of 0.0 pips + $5 per round 1.0 Forex lot. While on the VIP traders can benefited by the minimum floating spread of 0.0 pips + $4 per round 1.0 Forex lot
Trading Platforms
At 4XC, traders have access to various trading platforms, including MT4 for Windows, iOS, Android, and Webtrader, as well as MT5 for Windows, iOS, and Android. However, we highly recommend utilizing MT4 or MT5 as your preferred trading platform. MetaTrader is widely accepted by forex traders for its stability and reliability, making it the most popular choice in forex trading. The platform offers advanced trading tools such as Expert Advisors, Algo trading, Complex indicators, and Strategy testers. Traders can further enhance their trading performance by exploring the extensive range of 10,000+ trading apps available in the Metatrader marketplace. By utilizing the mobile terminals available on iOS and Android devices, traders can conveniently execute trades from anywhere and at any time using MT4 and MT5.
Deposit & Withdrawal
4XC says to accept deposits via Bank Wire, VISA, MasterCard Alipay, pix, cryptocurrencies, advcash, Globe pay, Netteler, Skrill, Stickpay, Mpesa, Fasapay, Perfect Money, Union Pay, helpay2, Pay Retails, Paycp, DivePay and withdrawals with Bank Transfer, Visa, MasterCard, helpay2, Neteller, Skrill, Globepay, Union Pay, Paycp, Mpesa, Fasapay, Pay Retails, Perfect Money, DivePay, Cryptocurrencies, Advcash, Hokocloud, pix. The broker does charge some deposit and withdrawal fees, more details can be found in the below screenshots.
Deposit and withdrawal requests at 4XC have varying processing times. Generally, regular transfers take 2-3 business days, cryptocurrency deposits are processed within 24 hours, and other deposits are instant. Visa and MasterCard withdrawals take 7-10 business days, helpay2, Neteller, and Skrill withdrawals require 1 business day, while other withdrawals can be processed instantly.
Bonuses
At 4XC, customers are offered a 50% first deposit bonus and an exclusive promo on exchange rates specifically designed for Nigerian traders. This enables Nigerian traders to maximize their trading opportunities and enjoy additional advantages while trading with 4XC.
4XC Review: Education and Research
Education
When it comes to providing market-related information, 4XC offers its own dedicated section "Learn" where someone can find trading educational resources. The videos are designed to significantly enhance a trader's capabilities, equipping them to confidently navigate various market conditions that may arise in the future.
These resources include tutorials, trading guides, news & analysis, and trading courses. They are categorized into different sections, catering to beginners, advanced traders, and experts.
To help traders trade effectively, there is a platform tutorial that explains how to use MetaTrader5 and MetaTrader4, including placing orders. Traders learn new techniques and are encouraged to apply them accurately. Furthermore, client tutorials support users in fully utilizing the brokerage trading portal, covering all essential aspects of the broker's operational procedures.
Research
4XC provides clients with various research materials, such as market news, market analysis, market signals, and an economic calendar. Here's a quick overview of what they offer:
– Market News: Multiple daily articles covering the latest news across global markets.
– Market Analysis: Research that encompasses various markets, including forex, commodities, and equities.
– Market Signals: Trading signals produced for forex and commodity markets, including information on timeframes, entry price, stop loss, and take profit levels.
– Economic Calendar: Current and future economic events, comprising Actual, Forecast, and Previous data figures, along with their impact levels.
Customer Support
You can reach out to the broker through several ways for addressing your issue. The brokerage company offers services in multiple countries. You can call them at +44 203 514 9306.
Despite being present on various social media platforms, 4XC's social media presence is pretty much nonsense, with a tiny following and minimal interaction.
On Instagram, 4XC seems to have a fan club of bots. They're rocking the bot nation!
On Twitter, they're all about the Greek artists, actors, government officials from Cyprus, and even some shops. Hey, at least they have a diverse taste in follows!
As for Facebook, it looks like the majority of their followers were acquired through paid advertisements. Engagement? Well, it's like finding a unicorn – pretty rare on their page.
Is It Safe To Trade With 4XC
The 4XC broker is licensed and regulated by the FSC (Financial Services Commission) of the Cook Islands, which raises a red flag for traders. The Cook Islands, located in a remote area of the Pacific, has become a popular choice for companies looking to offshore their businesses due to the lack of stringent regulations.
This business environment allows companies like 4XC, potentially involved in scams, to take advantage of low startup fees, minimal auditing and insurance requirements, and a lenient penalizing system. This creates an opportunity for illicit activities to operate under the cover of a legal license.
The FSC license of the Cook Islands has been associated with financial crimes and money laundering, as it lacks strict guidelines for companies' financial activities. It does not hold the same level of recognition as licenses such as FCA, CySEC, FSCA, or ASIC, which are acknowledged regionally or globally.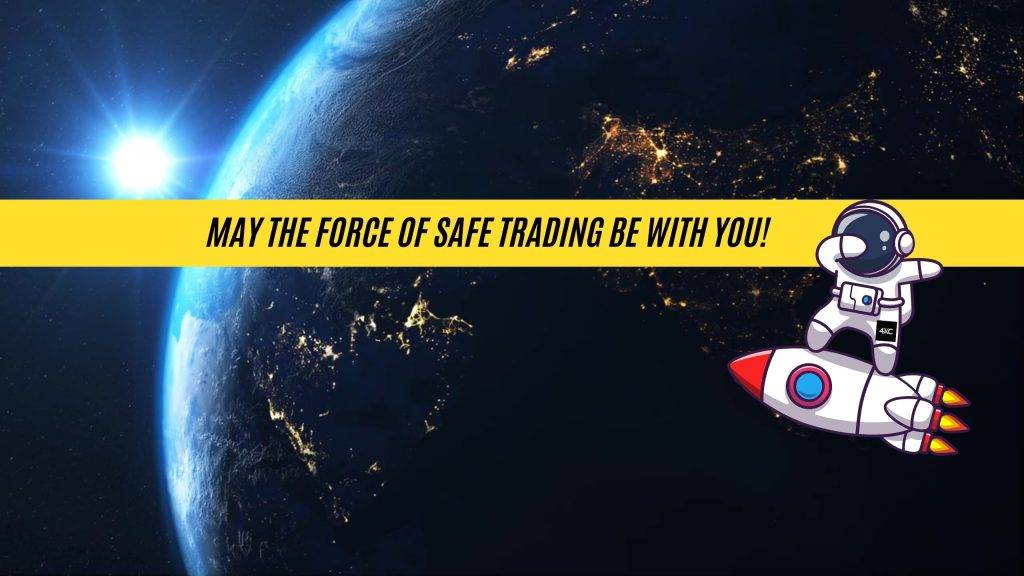 Warning: Beware of 4XC broker's "out of this world" trading conditions! Don't let your money disappear faster than a spaceship in outer space. Choose a safe broker for a smooth trading journey.
FAQ
Is 4XC regulated?
4XC is an offshore company regulated by the Cook Islands Financial Supervisory Commission.
Where is 4XC based?
Global House, Avarua, Rarotonga, Cook Islands.
How does 4XC make money?
4XC makes money mainly through commission, spreads and swaps on certain asset classes.
How do I deposit in 4XC account?
Funds can be deposited via debit/credit card, bank wire, cryptocurrencies and e-wallets such as Skrill, Neteller, AdvCash etc.
What is the min. deposit for 4XC?
The minimum deposit is $50.
How do I withdraw money from 4XC?
Withdrawals can be made via debit/credit card, bank wire, cryptocurrencies, e-wallets such as Skrill, Neteller, AdvCash etc..
What is the max leverage in 4XC?
Clients are offered leverage up to 1:500.
How do I open an account with 4XC?
Opening an account with 4XC website is easy and can be completed in just a few simple steps.
Does 4XC use MetaTrader?
Yes, MetaTrader 4 and MetaTrader 5.
Conclusion
In our analysis of the 4XC financial broker, we have identified several concerning factors that make it risky to work with.
The broker's offerings raise suspicion due to contradictory statements, making it unappealing for traders to sign up on their website as well as the website lacks clarity and informative content.
Despite being present on various social media platforms, 4XC lucks social media presence with a small number of followers and minimal engagement.
The license held by 4XC is considered low-tier, which raises concerns about the broker's regulation since the license lacks restrictions and penalties for misconduct.